Kasza jaglana – 5 właściwości, o których możesz nie wiedzieć
Kasza jaglana – ludzie żywią się nią od tysięcy lat. Bardzo popularna w średniowieczu coraz częściej gości na naszych współczesnych stołach. Na czym polega jej fenomen? Co takiego sprawia, że jak bumerang kasza jaglana do nas wraca. W jaki sposób może pomóc Ci w odzyskaniu upragnionej formy i zdrowia i czego jeszcze nie wiesz o kaszy jaglanej?
Długa historia kaszy jaglanej w wielkim skrócie
Jedna z najstarszych i obecnie coraz bardziej popularnych kasz. Badania archeologiczne wskazują, że
już w okresie neolitu
(ostatni okres kamienia łupanego, poprzedzający epokę brązu) kasza jaglana była
uprawiana w Państwie Środka
(obecne Chiny). Kaszę jaglaną – jagłę – jadano w średniowiecznej Polsce, gościła na stołach zarówno szlacheckich jak i biedniejszej części społeczeństwa.
Swoją dominującą rolę straciła dopiero po sprowadzeniu i rozpowszechnieniu ziemniaków. Mimo to bardzo popularna była w międzywojennej Polsce. Przepisy kulinarne znajdujące się w opracowaniach z tamtego okresu często zawierają kaszę jaglaną.
Właściwości kaszy jaglanej
Kasza jaglana z uwagi na dość niewielką (w porównaniu na przykład do kaszy gryczanej) zawartość błonnika
jest produktem lekkostrawnym
, zawiera stosunkowo niewiele skrobi oraz dużo łatwo przyswajalnego białka.
Zawarta w niej skrobia, węglowodany złożone są trawione powoli, stopniowo uwalniając swoją energię. Zapobiega to gwałtownym skokom poziomu cukru we krwi i daje poczucie sytości na długie godziny.
W swym składzie ma również cenną dla organizmu krzemionkę, która m.in. wzmacnia włosy, paznokcie oraz uelastycznia naczynia krwionośne przyczyniając się do prawidłowej pracy układu krwionośnego.
Posiada również witaminy z grupy B, E, oraz lecytynę, niezbędny składnik każdej komórki naszego ciała oraz główny składnik mózgu i tkanki nerwowej.
Swoje żółte zabarwienie zawdzięcza zawartości karotenu (prowitamina A, która jest również w marchwi). Karoten sprzyja regeneracji układu pokarmowego, jest bowiem w dużej mierze odpowiedzialny za regenerację uszkodzonej śluzówki.
Kasza jaglana dobrze znosi przechowywanie i bardzo szybko się ją przyrządza. Już po 15 minutach możesz mieć pełen garnek gorącej, aromatycznej kaszy jaglanej.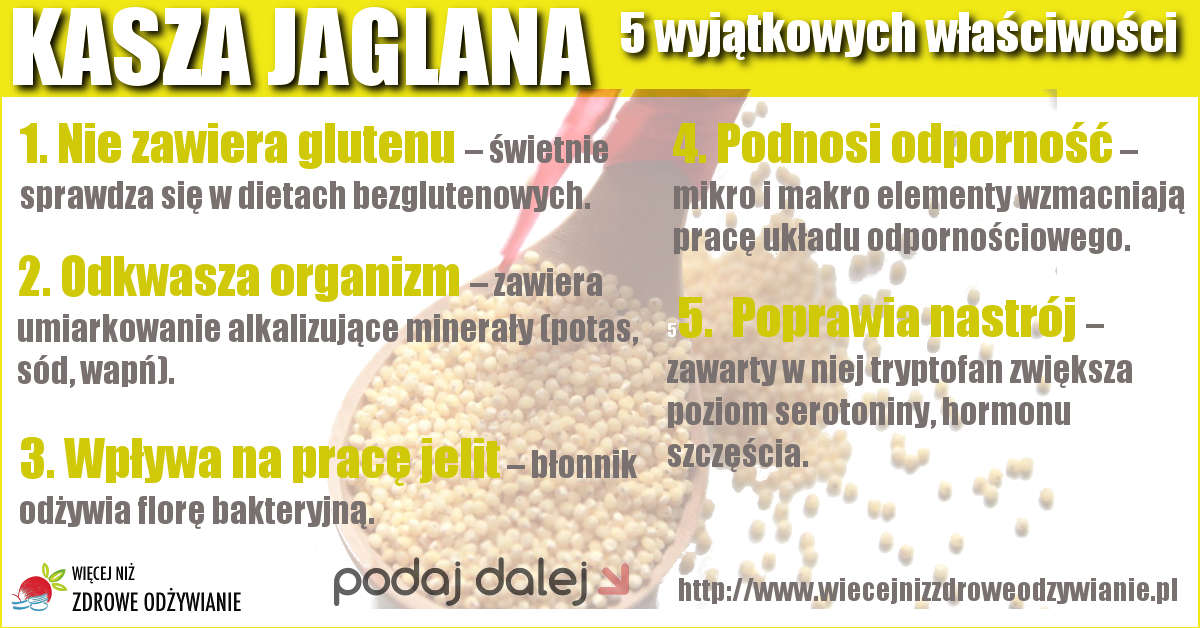 1. Kasza jaglana w diecie bezglutenowej
Bardzo dobrą cechą kaszy jaglanej jest to, że
nie zawiera glutenu
. Pod wpływem stresu, braku ruchu, spożywania przetworzonej żywności, niewłaściwych nawyków żywieniowych coraz więcej ludzi boryka się z
nietolerancją i nawet alergią na gluten
.
Na szczęście większość z nietolerancji ma cechę pierwotnych – czyli odwracalnych. Oznacza to, że po odpowiednio długim czasie braku spożycia glutenu kosmki jelitowe odbudowują się i ponownie zaczynają wytwarzać enzymy umożliwiające właściwe trawienie glutenu.
Mechanizm tworzenia się nietolerancji pokarmowych oraz sposoby regeneracji jelit wyczerpująco opisuje Bożena Kropka w książce: "Co mi dolega. Poradnik skutecznego leczenia dietą".
W przypadku nietolerancji na gluten zazwyczaj wystarcza wyeliminowanie go z diety na okres co najmniej 6-ciu tygodni. Po tym okresie można ponownie, powoli wprowadzać produkty z jego zawartością, ciągle obserwując swój organizm.
Jednak co jeść przez 6 tygodni? Czym zaspokajać głód i potrzeby energetyczne organizmu? Kasza jaglana odpowiada na tę potrzebę, za jej pomocą można przygotować wiele różnorodnych bezglutenowych posiłków od pysznych energetycznych śniadań, poprzez wytrawne dania obiadowe, po słodkie, smaczne i zdrowe desery.
2. Kasza jaglana na odkwaszenie organizmu
Wiele pokarmów
, które obecnie spożywamy: pieczywo, nabiał, mięso, napoje słodzone, kawa
ma działanie zakwaszające
. Oznacza to, że
w procesie ich metabolizmu
organizm musi ze swoich rezerw (bufory kwasowo-zasadowe)
pobrać minerały
, dzięki którym po ich strawieniu może
zachować wymagane ph krwi
(7,35-7,45).
Jest to bardzo skuteczny mechanizm utrzymania odpowiedniej równowagi kwasowo-zasadowej. Dowodem na to jest choćby to, że jadając głównie zakwaszające produkty możemy przez wiele lat cieszyć się dobrym zdrowiem. Jednak ten mechanizm potrzebuje paliwa – minerałów alkalizujących, które uzupełniają pierwiastki zużyte na neutralizowanie kwaśnych produktów przemiany materii.
I właśnie takim paliwem w swej najczystszej i najzdrowszej formie jest kasza jaglana.
Kasza jaglana działa alkalizująco, co oznacza, że zawiera minerały (sód, potas, wapń, sód), które umożliwiają odkwaszenie organizmu. Dzięki regularnemu jadaniu kaszy jaglanej Twój organizm będzie miał stały dopływ minerałów i łatwiej będzie mu odbudować i zachować równowagę kwasowo-zasadową.
3. Kasza jaglana na poprawienie nastroju
Kasza jaglana min. zawiera
białko o nazwie tryptofan
. Jest to aminokwas egzogenny, tzw. niezbędny, taki, którego organizm nie jest w stanie sam wytworzyć, dlatego
musi być dostarczany z pożywieniem
. Tryptofan jest w naszym organizmie niezmiernie ważny, ponieważ
odpowiada za biosyntezę
dwóch hormonów:
melatoniny
i
serotoniny
.
Serotonina to neuroprzekaźnik, który ma bezpośredni wpływ na nasz nastrój ("hormon szczęścia"), jego brak może powodować znaczące jego pogorszenie łącznie z objawami przypominającymi depresję.
Należy pamiętać, że wytworzenie serotoniny z tryptofanu wymaga obecności katalizatora w postaci witaminy B6. Kasza jaglana zawiera dużo tej witaminy, dzięki czemu po jej spożyciu w naszym organizmie powstaje serotonina wspomagając utrzymanie dobrego nastroju i sprawia, że czujemy się szczęśliwsi.
4. Kasza jaglana na podniesienie odporności organizmu
Dzięki bogactwu makro i mikroelementów kasza jaglana
poprawia funkcjonowanie układu odpornościowego
– silny układ immunologiczny sprawnie
radzi sobie z wirusami i patogenami chorobowymi
, zapobiegając infekcjom i neutralizując ogniska chorób we wczesnym stadium ich powstawania.
Zgodnie z medycyną chińską, kasza jaglana może mieć (zależy jak się ją przygotuje) działanie osuszające i ocieplające. Dzięki swoim właściwościom antywirusowym oraz antygrzybicznym jest naturalnym antybiotykiem w walce z przeziębieniem i zapaleniem zatok. Polecana jest przy chorobach przewodu pokarmowego, żołądka, wątroby, trzustki, jelit i nerek.
5. Wpływ kaszy jaglanej na dobroczynną florę bakteryjną
Podstawą naszej odporności i zdrowia jest
sprawnie funkcjonujący układ pokarmowy
. Jego kluczowym elementem są zamieszkujące w nim
organizmy symbiotyczne, komensalne i patogeny
. Każdy z nich jest nam potrzebny i ma w naszym organizmie do
spełnienia swoją unikalną rolę
. O ich dobroczynnej roli doskonale pisze
Robynne Chutkan
w swojej książce
"Dobre Bakterie"
. O dobre bakterie trzeba dbać, dostarczać im pokarmu (prebiotyki) oraz w okresach osłabienia zasilać zdrowymi szczepami bakterii (probiotyki).
Jednak te dobroczynne bakterie są bardzo wrażliwe na glifostat, składnik herbicydów typu Roundup, ale również innych, które stosują tę formułę. Glifosat nie ma bezpośredniego wpływu na człowieka, uszkadza jednak szlaki metaboliczne naszych dobroczynnych bakterii (w ten sam sposób działa na rośliny). W efekcie ich liczebność spada co doprowadza do poswatania patologicznej flory bakteryjnej, która na przykład może wytwarzać neurotoksyny atakujące nasze organy (w tym mózg).
Czemu o tym piszę? Bo podczas konwencjonalnej (nie ekologicznej) produkcji kaszy jaglanej rolnicy na ostatnim etapie produkcji (zbiór ziaren) stosują właśnie herbicydy na bazie glifosatu. Dlaczego? Dzięki ich zastosowaniu rośliny błyskawicznie usychają i nadają się do zbioru. Znacząco przyśpiesza to proces produkcji i zmniejsza ryzyko utraty plonu np. z powodu niekorzystnych warunków pogodowych.
Zdaję sobie sprawę, że używanie środków z glifosatem jest we współczesnym rolnictwie powszechne, dzięki nim można zmniejszyć ilość zabiegów uprawowych jednak w przypadku zbioru prosa jest to szczególnie niebezpieczne. Herbicyd podaje się na kilkanaście dni przed zbiorem, w fazie, gdy rośliny są ciągle w fazie wzrostu.
Dlatego kasza jaglana jest jednym z niewielu produktów (podobnie jest z kaszą gryczaną), które jeżeli jest tylko taka możliwość należy kupować ze źródeł ekologicznych. Dzięki temu, mamy pewność, że spożywamy produkt bogaty w składniki odżywcze i przede wszystkim pozbawiony glifostatu.
Jak przygotować kaszę jaglaną
W naszej kuchni kasza jaglana gości w wielu potrawach. Czasem
wcześniej gotujemy większą ilość
i dodajemy do przygotowywanych dań. Ugotowaną
można przechowywać
w szklanym naczyniu w lodówce.
Wiele osób, które po raz pierwszy przyrządza kaszę, popełnia podstawowy błąd powodujący, że ich pierwszy z nią kontakt nie jest aż tak pozytywny. Jedząc kaszę jaglaną można wyczuć jej charakterystyczną goryczkę. Najważniejsze jest to, aby przed ugotowaniem kaszy jaglanej kilkakrotnie przepłukać ją pod bieżącą wodą. Chodzi o wypłukanie z ziaren pyłu, którym są pokryte.
Tak wypłukaną kaszę zalewamy wodą w stosunku 1:2 (jedna część kaszy, dwie części wody) i gotujemy bez mieszania pod przykryciem na bardzo małym ogniu. Na początku ogień może być większy, ale zaraz po zagotowaniu ustawimy go na minimum. Po około 15 minutach od rozpoczęcia gotowania, gdy cała woda będzie wchłonięta, a uchodząca para na powierzchni kaszy wytworzy małe otwory oznaczać będzie, że kasza jest gotowa.
Aby zwiększyć przyswajalność witamin rozpuszczalnych w tłuszczach (A, D, E, K), do gotowania kaszy dodajemy niewielką ilość (łyżeczka od herbaty na 1 szklankę kaszy) dobrego tłuszczu. Z kaszą, szczególnie przyrządzaną na słodko, świetnie komponuje się tłuszcz kokosowy. Można też dodać klarowane masło.
Drugi sposób przyrządzania kaszy polega na jej wcześniejszym podprażeniu. Dzięki temu kasza zyskuje właściwości rozgrzewające. Odmierzoną ilość kaszy wsypujemy do naczynia z grubym dnem i prażymy na średnim ogniu do czasu, gdy zacznie wydzielać dość intensywny (niektórzy nazywają to orzechowy) aromat.
Wtedy zalewamy ją odmierzoną ilością wrzątku (proporcje zostają takie same 1:2) i dalej już postępujemy tak samo, gotujemy pod przykryciem na wolnym ogniu, bez mieszania około 15 minut. Przy tej metodzie razem z wrzątkiem również dodajemy odrobinę dobrego tłuszczu.
W taki sposób powstaje podstawowa wersja kaszy, którą można przyrządzić na słodko, słono w zależności od preferencji i przepisu do którego ją zastosujemy. Można również jeszcze na etapie gotowania dodawać różne zioła i przyprawy, moim ulubionym dodatkiem jest kawałek świeżego imbiru.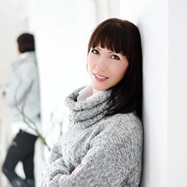 Dzięki odbyciu tego kursu moja skóra jest ładniejsza, mam lepsze samopoczucie i spokojniejszy sen. Wyostrzyły mi się również kubki smakowe 😉 W kursie najbardziej podobał mi się profesjonalizm z jakim był prowadzony. Wszystko było idealnie zaplanowane – to najprzyjemniejszy detoks w jakim do tej pory brałam udział. Kurs ten jest warty uwagi zwłaszcza dla ludzi którzy są zapracowani i nie mają czasu aby sami układać swoją dietę. Jest smaczny, zdrowy i prosty.
Agnieszka Trafas
Jaglany Detoks w 2 tygodnie
Kasza jaglana dzięki swoim właściwościom odżywczym, osuszającym i przeciwbakteryjnym doskonale sprawdza się jako podstawa do przyrządzania potraw w okresie
postu oczyszczającego
. Podczas takiego postu dzięki czasowemu
odstawieniu przetworzonej żywności
, używek (kawa, alkohol) i zadbaniu o
właściwe nawodnienie organizmu
odciążamy układ pokarmowy i zwiększamy skuteczność
pozywania się toksyn z organizmu.
Jeżeli chcesz przekonać się jak to jest
czuć lekkość po każdym spożytym posiłku
, wstawać rano z
pełnią energii po dobrze przespanej nocy
, zobaczyć w lustrze ten
blask w oczach
jaki już dawno nie gościł na Twojej twarzy – zapraszam do zapoznania się z programem
Jaglany Detoks w 2 tygodnie
.
Więcej informacji o tym
programie oczyszczania organizmu
znajdziesz
pod tym linkiem
.
UWAGA: Bezpłatny eBook!
"Jaglany Detoks
brama do
zdrowego odżywiania"




A w nim:
1. Właściwe nawyki – fundamenty zdrowia.
2. Okresowe posty – pomagają czy szkodzą?
3. Jaglany Detoks – autostrada do zdrowia.
4. 6 kluczowych zasad Jaglanego Detoksu.
5. Dlaczego Jaglany Detoks jest dla Ciebie?
6. Co mówią osoby, które przeszły detoks?