Jak łączyć pokarmy? Praktyczny poradnik!
Jak łączyć pokarmy
Jak łączyć pokarmy? Ludzie od tysięcy lat jadali proste, naturalne, nieprzetworzone pokarmy. Raz była to znaleziona i wygrzebana z ziemi bulwa, innym razem dojrzały owoc, a jeszcze innym mięso upolowanego zwierzaka (te ostatnie zaczęliśmy jadać całkiem niedawno).
Sporadycznie w diecie człowieka pierwotnego pojawiały się jakieś nowe składniki, co wynikało z faktu, że dużo wędrowali. Miało to miejsce na przykład 15 tysięcy lat temu, gdy po zamarzniętej cieśninie Beringa przewędrowali z Syberii, poprzez Alaskę zasiedlając Amerykę Północną.
Taki sposób jadania, bo o komponowaniu pokarmów trudno tu mówić, miał i ciągle ma kolosalne znacznie na to w jaki sposób matka natura ukształtowała nasz układ trawienny.
Co to jest trawienie?
Jest to proces rozkładu zjadanego pożywienia na prostsze związki chemiczne w celu ich przyswojenia. Słowo przyswojenie ma tu szczególne znacznie, bo nie tym się stajemy co zjemy, ale tym co przyswoimy.
Najbardziej naturalnym i efektywnym sposobem trawienia jest tzw. trawienie enzymatyczne. Pisząc w skrócie, do strawienia każdego składnika pożywienia potrzebujemy innego enzymu, aby móc ten składnik przetworzyć na proste związki chemiczne i przyswoić.
Wszystko jest dobrze, gdy do żołądka wrzucimy jeden składnik pokarmowy, np. ugotowaną pełnoziarnistą kaszę. Organizm aktywuje odpowiedni enzym, składniki pokarmowe (głównie skrobia) rozłoży na cukry proste i znaczną ich cześć przyswoi.
Tu należy dodać, że nawet jeśli wszystko robimy "po Bożemu", to i tak nasz organizm nie jest w stanie przyswoić 100% pożywienia – przekonujesz się o tym zapewne co rano w toalecie… To jest zupełnie naturalne, natomiast powinniśmy tak komponować posiłki (to już małe wprowadzenie do meritum), aby maksymalizować ilość przyswajanych składników.
A co się w takim razie dzieje, gdy podczas jednego posiłku zjemy dwa, trzy lub nawet więcej różnych składników pokarmowych? W organizmie powstaje wtedy zamęt oraz trudność wytworzenia wszystkich wymaganych enzymów jednocześnie. Nasza natura i to przewidziała – do akcji wkraczają wtedy bakterie, które rozkładają spożytą mieszankę głównie drogą fermentacji.
Niestety tak przetworzone pożywienie nie jest dobrze przyswajane, składniki pokarmowe są wchłaniane w ograniczonym zakresie. Ponadto trawienie bakteryjne tworzy gazy jelitowe (fermentacja), bóle i obrzęki brzucha. Nawyki żywieniowe zmuszające organizm do trawienia bakteryjnego mogą w dłuższej perspektywie doprowadzić do stanów zwyrodnieniowych.
Idąc dalej, trawienie białka za pomocą enzymów zapewnia organizmowi dostęp do cennych aminokwasów (cegiełki, z których są zbudowane białka). Podczas trawienia bakteryjnego także uzyskujemy dostęp do aminokwasów, jednak dodatkowo powstają trujące produkty uboczne – ptomaina i leukomaina.  Analogicznie podczas bakteryjnego trawienia skrobi, oprócz cukrów prostych, powstają trujące substancje takie jak kawas octowy, kwas mlekowy i różne alkohole.
Jak łączyć pokarmy – komponowanie posiłków
Znamienne jest to, że ludzie mają różną tolerancję na różnorodność spożywanego pokarmu. Niektórzy tolerują posiłki złożone z kilku pokarmów (trawią je enzymatycznie), u innych już połączanie dwóch różnych produktów żywieniowych uruchamia trawienie bakteryjne. Tolerancja ta zmienia się wraz z wiekiem człowieka – im jesteśmy starsi tym bardziej preferujemy prostsze potrawy, składające się z mniejszej różnorodności produktów żywieniowych.
UWAGA!
Informacje przedstawione w artykule należy traktować jako zalecania, które nie dla każdego są bezwzględnie konieczne do wdrożenia. Jeżeli po zjedzeniu posiłku odczuwasz dyskomfort (wzdęcia, burczenie w brzuchu, gazy, zgaga itd.) lub po prostu masz nadwagę, to wprowadzenie diety rozdzielnej może być dla Ciebie doskonałym sposobem "wyciszenia" układu pokarmowego i wyrobienia sobie zdrowych nawyków żywieniowych, jak również sposobem na utratę niechcianych kilogramów.
Nasz organizm intuicyjnie wybiera proste kompozycje smakowe, umożliwiające poprawne trawienie, maksymalne przyswajanie spożywanych składników odżywczych – podstawy zdrowego odżywiania. Wystarczy poobserwować co jadają dzieci (preferują proste potrawy, co zjadaną na początku, a co na końcu?) lub dorośli, którzy cierpią na jakieś choroby (tracą apetyt na wyszukane dania).
Możesz pomyśleć: no tak, ale człowiek do zachowania zdrowia i witalności potrzebuje całego spektrum składników odżywczych. Jak mam je dostarczyć zjadając proste dania? Nic prostszego, każdy następny posiłek może zawierać inne pokarmy niż te, które zjadałeś poprzednio. Z pozoru wymaga to trochę więcej wysiłku, ale tak naprawdę wkładasz mniej pracy w przygotowanie posiłków. Najlepiej wtedy jest zaplanować sobie menu na cały dzień z góry lub nawet na kilka kolejnych dni.
Należy tak komponować posiłki, aby powstawały tak zwane monoposiłki, czyli posiłki składające się głównie z jednego składnika pokarmowego. Oczywiście to skrajność, bo jak dowiesz się z dalszej części artykułu, pewne grupy pokarmów doskonale z sobą współgrają. Nawet więcej, pewne połączenia pokarmów (dość różnorodne) powodują, że ilość wchłanianych substancji odżywczych jest na koniec większa, niż byśmy je spożywali z osobna.
Takie zdrowe odżywianie na początku może się wydawać wiedzą tajemną, trudną do zastosowania w życiu codziennym. Jednak zapewniam Cię, że po kilku tygodniach przywiązywania uwagi co z czym łączysz, zaczniesz robić to automatycznie, na zasadzie nawyku – wszystko zdrowo i z pożytkiem dla Twojego organizmu.
Tu mała dygresja. Jak myślisz ile czasu zajmuje wyrobienie sobie jakiegoś nawyku? Od dwóch do czterech tygodni. Znaczy to mniej więcej tyle, że jeśli przez ten okres będziesz coś systematycznie i bez wymówek robił, to po tym czasie zaczniesz to robić automatycznie i bez zastanowienia. Czy to nie wspaniałe?
No to teraz przechodzimy do meritum. Na początek przypomnienie o podstawowych grupach pokarmów.
Podstawowe grupy pokarmów
Białka: produkty odzwierzęce (nabiał, jajka, mięso, ryba) i rośliny strączkowe (fasola, soczewica, groch oraz ich kiełki), orzechy, nasiona.
Skrobie: wszystkie zboża i ich płatki (włączając chleb, makaron), ziemniaki, skiełkowane zboża.
Tłuszcze: oleje roślinne, smalec, masło, śmietana, avocado.
Zielone warzywa liściaste: kapusta, pietruszka, sałata, rzepa, kiełki pszenicy, jęczmienia itd.
Warzywa nieskrobiowe: brokuł, kalafior, ogórek, cebula, groszek, por, czosnek, bakłażan, papryka.
Warzywa wysokoskrobiowe: ziemniak, kukurydza, burak, marchew, dynia.
Owoce:

Słodkie: banany, daktyle, figi, owoce suszone.

Półkwaśne: jabłka, jagody, morele, brzoskwinie, śliwki, wiśnie, nektarynki.
Kwaśne: cytryny, pomarańcze, grejpfruty, ananasy, porzeczki, granaty, kwaśne jabłka, truskawki.
Jak łączyć pokarmy – zasady
Białka na początku
Białka są najtrudniejsze do strawienia, organizm do ich przetworzenia potrzebuje dużo kwasów żołądkowych. Inne pokarmy takie jak skrobia, warzywa, owoce do prawidłowego strawienia potrzebują ich zdecydowanie mniej, dlatego pokarmy wysokobiałkowe powinny być spożywane na początku posiłku.
Sól ułatwia trawienie
Słone potrawy należy zjadać przed pokarmami o innych smakach. Sól silnie pobudza wydzielanie soków żołądkowych. Dobrym przykładem jest słona i bogata w enzymy zupa, która aktywizuje i wspomaga trawienie.
Białka i skrobie osobno
Białka i skrobie powinny być jadane rozłącznie – najlepiej w formie oddzielnych posiłków, to chyba najważniejsza zasada. Jeżeli w swoich nawykach żywieniowych postanowisz zmienić jedną jedyną rzecz, niech to będzie właśnie rozdzielenie białek i skrobi.
Niestety niewiele osób może w łatwy sposób sprostać temu wyzwaniu, jak tu oddzielić pieczeń od kaszy? Z pomocą przychodzą nam zielone warzywa liściaste i warzywa nieskrobiowe. W ogóle te dwie grupy pokarmów można by rzec są uniwersalne, tzn. można je łączyć bez mała ze wszystkim innym, w szczególności z białkami i skrobią. We wspomnianym przykładzie pieczeń jest więc najlepiej zjeść na początku posiłku zagryzając znaczną ilością zielonych lub nieskrobiowych warzyw, a kaszę pozostawić sobie na koniec.
Więcej o tym dlaczego nie łączyć węglowodanów i białek przeczytasz w tym artykule.
Białka i tłuszcze osobno
Białek nie powinno się również łączyć z tłuszczami, głównie z dwóch powodów. Pokarmy wysokobiałkowe zwykle zawierają już duże ilości tłuszczów nasyconych – mięso, nasiona, orzechy. Dodawanie dodatkowego tłuszczu niepotrzebnie zwiększa kaloryczność potrawy. Dlatego smażenie nie jest najlepszym pomysłem na przygotowanie posiłku z mięsa, zdecydowanie lepiej jest je upiec, a najlepiej ugotować.
Drugi powód jest taki, że tłuszcz utrudnia prawidłowe trawienie spożywanych białek, angażuje znaczącą część soków żołądkowych, a jak już wiesz poprawne trawienie białek wymaga ich najwięcej.
Owoce jadaj same
Większość owoców zawiera cukry proste, które bardzo szybko ulegają strawieniu, ich wchłanianie zaczyna się już wręcz podczas gryzienia. Dlatego nie powinno się ich łączyć z innymi pokarmami, ponieważ mają tendencję do zagarniania dla siebie soków trawiennych, w tym czasie inne pokarmy czkając na swoją kolejkę mogą ulec fermentacji.
Owoce najlepiej jadaj na czczo lub przynajmniej 1-2 godziny po posiłku.
Owoce można łączyć z sobą w ramach jednego posiłku, jednak pod pewnymi warunkami: słodkie można łączyć z półkwaśnymi, a półkwaśne można łączyć z kwaśnymi.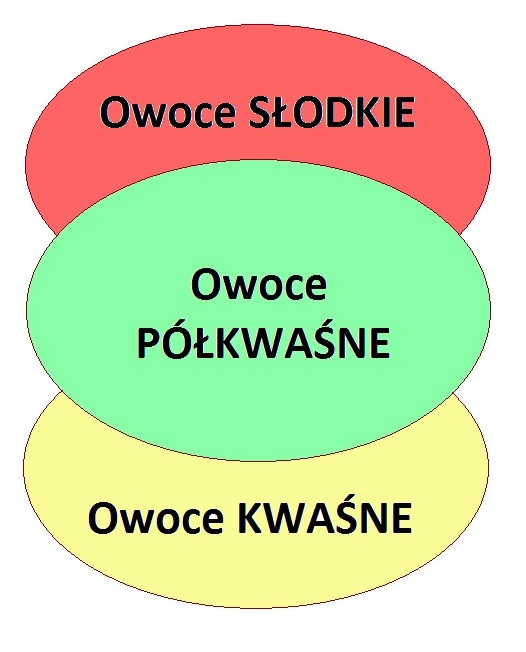 Wyjątkiem są melony i arbuzy, je należy spożywać osobno. Owoce te są lekkostrawne, błyskawicznie znikają z żołądka i przechodzą do dalszych części układu trawiennego, gdzie są wchłaniane. Natomiast, gdy zostaną pomieszane z innymi owocami, lub gorzej – z białkiem lub skrobią – to zabawiają w żołądku dłużej. Wtedy szybko ulegają fermentacji i przyczyniają się do rozwoju niekorzystnej flory bakteryjnej.
Skrobię i tłuszcze można jadać razem
Oczywiście z tłuszczem trzeba zawsze ostrożnie. Tak, jest nam potrzebny do prawidłowego funkcjonowania organizmu, w szczególności mam na myśli kwasy wielonienasycone (OMEGA-3) i przyswajania witamin rozpuszczalnych w tłuszczach (A, D, E, K). Z drugiej strony to najbardziej skondensowane źródło energii i jeżeli po tłustym posiłku nie przewidujesz aktywności fizycznej (spalenie spożytych kalorii), to Twój przezorny organizm odłoży go na później w postaci sadełka.
Wracając do meritum, możemy łączyć skrobię z tłuszczem, czyli chlebek lub owsianka z masłem są jak najbardziej ok.
Zielone warzywa – do wszystkiego?
Warzywa zielone i inne warzywa nieskrobiowe można łączyć niemalże z każdym innym produktem żywieniowym.
Tak więc wszelkiego rodzaju surówki będą doskonałym uzupełnieniem białek (mięsa, rośliny strączkowe, nasiona, orzechy) jak również skrobi (kasze, makarony, zboża i ich płatki).
Możesz również je dodawać do owoców – tu obowiązuje oczywiście zdrowy rozsądek, właściwe komponowanie produktów żywieniowych nie powinno przyćmić faktu, że danie powinno ładnie wyglądać i być smaczne.
Owoce z tłuszczami?
Można i nie można, już uściślam:
Słodkie owoce i tłuszcze NIE. Z tym nie ma problemu, bo zwykle te grupy produktów rzadko dobrze się ze sobą komponują smakowo. Jednak jak byś miał pomysł do słodkiej sałatki owocowej dodać avocado (tłuszcze) to NIE jest to dobre połączenie.
Kwaśne owoce i tłuszcze TAK.
Wyjątki
Pokarmy białkowe bogate w tłuszcze takie jak: ser, jogurt, orzechy, nasiona oleiste nazywane są białkami wysokotłuszczowymi. Komponują się bardzo dobrze z warzywami zielonymi, chociaż mają jeszcze jedną ciekawą cechę – dobrze łączą się z kwaśnymi owocami.
Kwasy z owoców wspomagają trawienie białek poprzez osłabianie i rozrywanie długich łańcuchów białkowych.
Dlatego często spotykasz jak najbardziej prawidłowe połączenia: jogurt i truskawki, twarożek i grejpfrut czy choćby pieczeń mięsna z ananasem.
---
Bezpłatny eBook a w nim:
Kim jesteśmy i jak możemy Ci pomóc.
Co zrobić zanim wystartujesz.
Produkty, które muszą zniknąć z kuchni.
Co w zamian? Łatwo dostępne, zdrowe zamienniki.
Co się stanie, jeżeli nic nie zrobisz.
Jak zrobić to szybciej i łatwiej.
---
Jak łączyć pokarmy – ciekawostki
Czy można łączyć pomidora z ogórkiem?
Pomidor i ogórek to jedno z najbardziej kontrowersyjnych połączeń, bo wydaje się bardzo naturalne i jest przez to popularne. Z drugiej strony takie zestawienie produktów żywieniowych jest zgubne dla witaminy C. Już tłumaczę o co chodzi, otóż ogórek zawiera znaczne ilości enzymu askorbinowego, który utlenia (neutralizuje) witaminę C. Pomidory oprócz innych cennych składników odżywczych charakteryzują się dużą zawartością witaminy C, którą w ten sposób niszczymy. Oczywiście jak jemy takie połączenie, to nic złego nam się nie dzieje, jednak tracimy przez to możliwość dostarczenia naszemu organizmowi witaminy C zawartej w pomidorach.

Spotkałem się z opiniami, że polanie ogórka czymś kwaśnym (cytryna, ocet balsamiczny), lub podanie w sosie winegret osłabia aktywności enzymu askorbinowego, dzięki czemu więcej witaminy C przetrwa kontakt z ogórkiem.
Zasada wyniszczającego działania świeżego ogórka na witaminę C dotyczy również innych owoców i warzyw ją zawierających, generalnie wszystko co ma witaminę C, na której nam zależy, nie powinno się jadać ze świeżym ogórkiem.
Celowo podkreślam słowo świeży, bo proces kiszenia neutralizuje enzym askorbinowy, więc kwaszone ogórki jak najbardziej można jadać z pomidorami i innymi owocami oraz sałakami bogatymi w witaminę C.
Czy można dodawać cytrynę do herbaty?
To kolejny przykład bardzo popularnego lecz nie do końca udanego zestawienia. Liście herbaty zawierają glin (aluminium), na szczęście jest on w takiej formie, że jest praktycznie nieprzyswajalny przez nasz organizm. Niestety glin w kontakcie z cytryną tworzy cytrynian glinu, który jak się pewnie domyślasz już jest łatwiej przyswajalny przez organizm człowieka. Glin dla ustalenia uwagi jest bardzo toksyczny, odkłada się w układzie nerwowym i może prowadzić do choroby Alzheimera.

Dobra wiadomość jest taka, że glin bardzo wolno uwalnia się z liści herbaty. Wystarczy przed dodaniem cytryny wyjąć saszetkę z herbatą lub przelać napar do innego naczynia, aby uniemożliwić kontakt soku z cytryny z liśćmi herbaty. Późniejsze dodawanie cytryny do naparu ma jeszcze jedno uzasadnienie. Witamina C (kwas askorbinowy) jest wrażliwa na wysoką temperaturę (ginie w niej), dlatego z jej dodaniem do herbaty należy poczekać aż osiągnie temperaturę, w której normalnie ją pijamy.
Jak ja to wszystko zapamiętam?
Zgadzam się, to naprawdę solidna porcja wiedzy, którą na początku trudno ogarnąć, a takie zdrowe odżywianie jeszcze trudniej wdrożyć. Jak możesz to wszystko zapamiętać? Nie musisz – przynajmniej na początku. Specjalnie dla Ciebie przygotowałem graficzną ich reprezentację – wiadomo jeden rysunek wart tysiąc słów!
Wydrukuj poniższy rysunek i przyczep sobie na lodówce. Każdego dnia będziesz miał okazję zerkać na niego przynajmniej kilka razy. Co ważne będzie to w najwłaściwszym momencie tzn. wtedy, gdy przygotowujesz sobie posiłek.
Wiedzę już masz, teraz pora na wyrobienie sobie nawyku właściwego komponowania posiłków. Jak łączyć pokarmy? Pamiętaj, nasz umysł jest genialny, ułatwia sobie rutynowe czynności, zapamiętuje je i uruchamia program "autopilota". Tak właśnie działają nawyki, wystarczy jakąś rzecz (w naszym przypadku odpowiednie komponowanie) systematycznie (nie ma wyjątków) wykonywać przez 2-4 tygodnie. Po tym czasie zaczniesz to robić podświadomie, bez konieczności każdorazowego zastanawiania się co z czym można połączyć.
Podsumowanie – jak łączyć pokarmy?
Jak łączyć pokarmy? Na koniec ważna uwaga, jak już wcześniej wypominałem tolerancja na różnorodność produktów żywieniowych spożywanych w ramach jednego posiłku jest sprawą bardzo indywidualną. Niektórym połączenie trzech lub więcej różnych produktów nie przysparza problemów trawiennych, u innych już nawet dwa mogą powodować ociężałość, odrętwienie i wzdęcia. Prawidłowe komponowanie posiłków połączone z nieprzejadaniem się jest podstawą zdrowego odżywiania.
Z drugiej strony większość z nas przywykła do "radzenia sobie" w takich sytuacjach, uważamy je za "normalne". Nie doceniamy mądrości naszego organizmu, który potraktowany z szacunkiem (zdrowe odżywianie) odwdzięczy się zdrowiem i witalnością. Dopiero wtedy docenimy wpływ komponowania pokarmów na właściwe trawienie i nasze samopoczucie, bo wtedy normalny będzie dla nas inny stan. Stan, w którym nie potrzebujemy kawy, aby rano normalnie funkcjonować, w którym nie potrzebujemy napojów energetycznych, aby mieć jasne myśli przez cały dzień i stan, w którym nie musimy podjadać co 2, 3 godziny, aby nie być głodnym.
Tego nam wszystkim życzę!
Bezpłatny eBook a w nim:
Kim jesteśmy i jak możemy Ci pomóc.
Co zrobić zanim wystartujesz.
Produkty, które muszą zniknąć z kuchni.
Co w zamian? Łatwo dostępne, zdrowe zamienniki.
Co się stanie, jeżeli nic nie zrobisz.
Jak zrobić to szybciej i łatwiej.